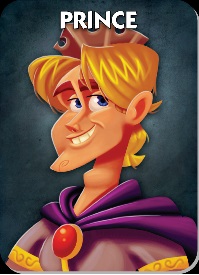 Votes for the Prince do not count.
From Bonus Pack 1, on Team Village
The Prince is like a weak Hunter. Most of the comments for the Hunter apply equally to the Prince. However, the key difference is that if the Hunter is lynched he gets to decide who else dies while if the Prince is lynched he needs to make do with the player with the second most number of votes also being lynched. This can backfire terribly if no other player gets at least two votes, resulting in an automatic Werewolf win.
As the Prince you get one vote, so if you've generated so much suspicion that you are looking at a unanimous lynching you need to ensure at least one other member of Team Village hedges the team;s interests by voting for the same Werewolf player you do. If a unanimous lynching looks likely, in the last few seconds before the timer winds down out yourself as the Prince to a fellow villager and explain why the two of you need to vote for the most likely Werewolf. If they agree, and the Werewolves don't have enough time to co-ordinate a response, then the Werewolf will die from those two votes. Werewolves won't be able to coordinate a response to this without outing themselves.
What do you think? Leave your thoughts in the comments section.