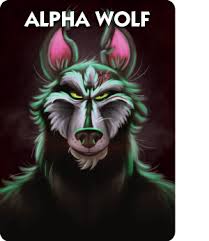 "Alpha Wolf, wake up and exchange the Center Werewolf card for any other player's card."
From Daybreak, on Team Werewolf
Apart from playing like a normal Werewolf, the Alpha Wolf also needs to keep track of the center Werewolf card they gave to another player, including any subsequent switching it may have been subject to. Apart from ensuring he himself isn't lynched he also needs to ensure that the freshly turned Werewolf also isn't lynched. This can be made difficult because the freshly turned Werewolf won't be playing in their own best interests.
The Alpha Wolf, together with the Minion, also needs to assess if it is likely that the Werewolves have a majority. Since there can be up to eight Team Werewolf cards in play the Alpha Wolf is crucial in outing the team Werewolf majority at the crucial moment.
If the Alpha Wolf finds he himself was switched he can out the player that he turned into a Werewolf, assuring a victory for the Village Team.
What do you think? Leave your thoughts in the comments section.