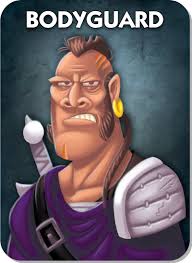 When everyone votes, the player that the Bodyguard points to cannot be killed.
From Daybreak, on Team Village
If you can, don't reveal you are the Bodyguard. Lie unless doing so would get you lynched. If you are the Bodyguard or suspect you are the Bodyguard you obviously need to vote for someone that you know is a Villager. If you can, lie enough to entrap someone else with the hope that this will bring the Werewolves out of hiding. For example, frame an innocent and then see who agrees with you. The opportunity to jump on the bandwagon and lynch an innocent will be irresistible to true Werewolves. If you are too successful in your lie and the innocent is going to be lynched then, as the Bodyguard, simply vote for them to protect them. The risk is that you yourself appear too suspicious and get lynched. Remember the Bodyguard cannot protect himself. If this looks likely then it might be best to come clean with your plan as the Bodyguard and hope you haven't damaged your credibility too badly.
What do you think? Leave your thoughts in the comments section.