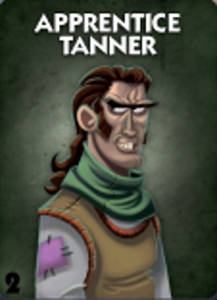 "Apprentice Tanner, wake up. Tanner stick out your thumb so the Apprentice Tanner can see who you are."
From Bonus Pack 2, only wins if Tanner dies. If there is no Tanner, only wins if he himself dies
If the Tanner is not in play, the Apprentice Tanner's strategy resolves to that of the Tanner.
If the Tanner is in play, the Apprentice Tanner needs to be extremely subtle. Don't start laying suspicion on the Tanner. Play the long game by lining up a bunch of people as Werewolf suspects and provide evidence against each one to look like you are making a genuine attempt to find the Werewolf. Then gradually remove one person at a time from your line of suspects as each provides a plausible defense. Continue this until the only person left in your list of suspects is the Tanner and you guide the group to the 'natural' conclusion that they need to be lynched.
If you are outed as the Apprentice Tanner, say nothing more for the rest of the round. You will have zero credibility from that point and anything you say will be interpreted as pointing toward the Tanner. Even using reverse psychology to pour suspicion on someone else so the group falsely suspects them of being the Tanner will be more likely to backfire than be helpful.
What do you think? Leave your thoughts in the comments section.