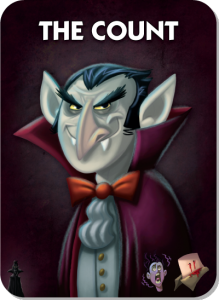 "Count, wake up and place the Mark of Fear in front of any non-Vampire player."
From ONUV, on Team Vampire
Before playing, ensure that beginner players understand that the Count is also a Vampire and wakes up with the Vampires. I've seen many beginner players with the Count card not wake up with the vampires because of this confusion.
The Mark of Fear will only prevent the Pickpocket, Marksman or Gremlin from acting (assuming only the base cards from ONUV are being used). Preventing one of these from acting will advantage Team Vampire, especially if it is the Marksman. But on the downside, giving the Mark of Fear provides Team Village certain knowledge that the Count is in the game.
The Count's strategy then resolves to that of a Vampire.
What do you think? Leave your thoughts in the comments section.