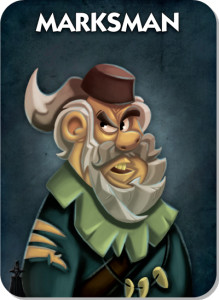 "Marksman, wake up. You may view the card of one player and the mark of another player."
From ONUV, on Team Village
By looking at a mark, the Marksman has a reasonably high chance of identifying the Mark of the Vampire, Mark of the Bat (i.e. Renfield), or Mark of the Traitor. Announcing the mark of the Vampire or Mark of the Traitor fairly quickly is helpful to discredit that individual, but the Marksman should definitely hold back on announcing what he saw or who he looked at if he saw the Mark of the Bat. Renfield has more information on Team Vampire than even the Vampires themselves have, since the Vampires don't know who Renfield is. If the Marksman saw the Mark of the Bat, he should pretend to have seen a different mark from another player, or pretend to not even be the Marksman at all, and play along with Renfield's story to elicit information from him, such as subtly asking who he thinks each player is. Only when he has coaxed this information out of Renfield should he out Renfield.
As the Marksman seeing a Mark of Fear, Mark of Love, Mark of Disease won't provide much informational advantage since recipients of any of these marks are incentivized to announce it to the group fairly early anyway.
What do you think? Leave your thoughts in the comments section.