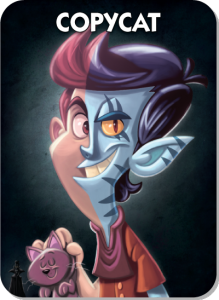 "Copycat, wake up and look at one of the center cards. You are now that role. If that role is called, wake up and do that action."
From ONUV
Unfortunately, the Copycat is mostly a pointless card in ONUV. Since no other cards in ONUV look at any center cards the Copycat may have copied, including the Copycat in any game is functionally equivalent to  playing each ONUV game with one less card than normal. A small exception to this is that if you play with the Copycat card and the Marksman looks at the Copycat's card then they get less information than if you simply ditched the Copycat and started the game with one less card.
Copycat does have some interesting dynamics when played with ONUW and Daybreak. The Seer, Apprentice Seer or Witch can verify/refute what the Copycat say they did. Similarly, if a copycat and an Alpha Wolf are both in play, the copycat could look at the center werewolf card and three wolves may wake up at night.
Normally, during pre-game card selection, it is hard to decide which among the wide selection of really interesting cards to include, so Copycat is an easy choice to leave out.
What do you think? Leave your thoughts in the comments section.