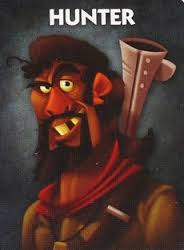 If the Hunter dies, the player he is pointing at dies as well.
From ONUW, on Team Village
Along with Villagers, the Hunter is one of the least popular characters to use in the game because they perform no action at night. Most beginners receiving the Hunter role will simply admit they are the Hunter and then silently wait out the day phase as the game unfolds around them.
On the contrary, in the hands of an experienced player, the Hunter is the best character in the game since you have carte blanche to lie with impunity. As the Hunter you have an effective veto on the final lynching, but your veto is only triggered if you yourself get lynched. With a casual indifference to his own death, the Hunter is the Team Village equivalent of the Minion.
Come out swinging with a bold lie that brings as many Werewolves out of the shadows as possible. Say you're the Seer and you saw another player was the Troublemaker. Or say you're the Paranormal Investigator and you saw two players were the Apprentice Seer and the Hunter. Each person you speak for will be forced to either agree with you or contradict you. Werewolves caught up in this net will think you are the Minion providing them an alibi and may readily agree with you.
Sure, your bold lie will eventually unravel as a legitimately innocent person contradicts you but by then hopefully the Werewolves will have dug their hole. If you arouse so much suspicion that you yourself get lynched then you just won the game for Team Village as you exercise your veto and kill a Werewolf.
Like the Tanner, it works best if you can prevent other players from knowing you are the Hunter, since Werewolves will be less likely to vote for you. If you get caught out in a lie then rather the confessing to being the Hunter, change it to something else equally bold. The Hunter's only real weakness is being found out as the Hunter since your wild claims won't have the desired effect of bringing out the Werewolves and Team Village probably won't vote for you since they will likely want to vote for a Werewolf directly rather than handing you the veto. Don't do yourself a disservice by outing yourself as the Hunter.
Similarly, if you are on Team Village and through your role as the Paranormal Investigator or Seer, you discover who the Hunter is, then don't immediately out that person. Let the Hunter take advantage of their card to bring victory to Team Village.
What do you think? Leave your thoughts in the comments section.