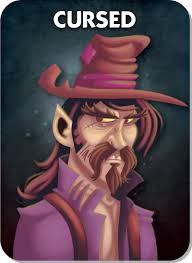 From Bonus Pack 1, on the Team Village, unless at least one Werewolf votes for him, and then he becomes a Werewolf and joins Team Werewolf.
The Cursed is a great card to include in games where there is a possibility of a Team Wolf majority emerging. A Team Wolf majority becomes more likely when there is some combination of an  Alpha Wolf, Paranormal Investigator, Doppleganger and/or Curator. Each of these cards can potentially convert to the wolf team or convert someone else unwillingly. When a Team Wolf majority, or close to a majority, arises and they can identify who the Cursed is, their best strategy is to tell the Cursed that one of the Wolves is going to vote for them, thus turning them into a Wolf, so the Cursed has little choice but to vote against the member of Team Village that Team Wolf has selected for lynching. Of course one Werewolf will spend their vote voting for the Cursed to bring them to their side but at least this prevents the Cursed voting against the Wolves, which they would otherwise do. If the wolf is really sneaky they can make this threat against the Cursed and then not vote for the Cursed after all, thus gaining the Cursed's vote without sacrificing their own vote.
If you are the Cursed you are "damned if you do and damned if you don't", hence the name "Cursed". Until the final vote is complete you can't be sure which team you will be on and therefore which way you yourself should vote. If there is a chance of a Team Wolf majority you should not reveal you are the Cursed, lest a Wolf hold you to ransom to ensure you vote for Team Wolf. Even if Team Wolf does threaten to make you a Wolf you can't be sure they use up one of their own votes to follow through on it. If you fall for the threat and the Wolf doesn't vote for you then you will be voting against a member of Team Village despite you yourself being on that team.
Where possible, don't reveal you are the Cursed. You just want to fly under the radar. If there is a Team Village majority pretend to be a Team Village role. If there is a Team Wolf majority pretend to be a Team Wolf role (Paranormal Investigator or Minion are good ones to claim since then Werewolves are less likely to have direct knowledge that contradicts you).
If you lie like this and get caught out and it looks like you will be lynched, stick with the lie until the clock has almost run out. With 20 seconds left on the clock, suddenly announce you are actually the Cursed. Wolves will no longer want to vote for you since turning you into a Wolf just before being lynched would lose them the game too. Similarly, Team Village will realize that Team Wolf will no longer vote for you and they will be lynching one of their own, therefore they should look for the next most suspicious candidate to lynch instead.
Last minute reveals can backfire if they freeze others into inaction. In this case, quickly prod players with the required course of action rather than relying on them to figure it out.
Pretending to be the Cursed when you are not can useful if you are on Team Village in order to waste one Werewolf's vote. A single Werewolf may promise to vote for you in order to bring you over to Team Werewolf and gain your vote against Team Village. If you are not a Cursed, this single vote will have no effect on you but the wasted vote by Team Wolf might be enough to swing the outcome to Team Village.
What do you think? Leave your thoughts in the comments section.