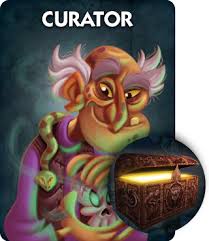 "Curator, wake up. You may place an Artifact token face down on any player's card."
From Daybreak, on Team Village
The Curator has no hidden information since the location of the artifact token is evident to all as soon as the day phase starts. Like the Sentinel and Revealer, they are essentially a Villager with a small amount of agency during the night phase. Recall, however, that the Curator can give the artifact to himself.
If you receive a token from the Curator during the night phase (particularly the Claw of Werewolf or the Cudgell of the Tanner) you can pretend it's an entirely different token to deflect suspicion. Pretending you got the Mask of Muting or Shroud of Shame works well since it requires an elaborate act. If you got an innocent token (such as the Brand of the Villager or Sword of the Bodyguard) then you can help corroborate this by reading out the whole name of the token (ie the "Brand of the Villager" rather than just "Villager") so it sounds more legitimate. Similarly if you think someone is lying about their token and you are experienced enough to know all the tokens in detail while the other player is not, then ask them to look at the token carefully and confirm the exact wording on the token or to describe the exact picture and color. If they fail or refuse then they probably don't have the token they claimed to have.
What do you think? Leave your thoughts in the comments section.