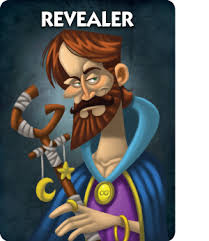 "Revealer, wake up. you may flip over any other player's card. If it is a Werewolf or a Tanner, flip it over face down."
From Daybreak, on Team Village
The Revealer has no hidden information since the turned card is evident to all as soon as the day phase starts. Like the Curator and Sentinel, they are essentially a Villager with a small amount of agency during the night phase. The only exception is if the Revealer saw a Werewolf or a Tanner. Once you can confirm you are still on Team Village you can reveal who was the Werewolf you saw and the rest will unravel if they were switched. If you suspect you somehow switched teams, you want to frame a Villager as a Werewolf instead. Choose one that no one else is corroborating and say that as the Revealer you saw they were a Werewolf.
If a card is face up when everyone wakes, the Revealer is a good card for a Werewolf to claim to be since it's clear there is in fact a Revealer in the game and the true Revealer has no direct method (such as secret knowledge) of gaining credibility over the Werewolf.
What do you think? Leave your thoughts in the comments section.