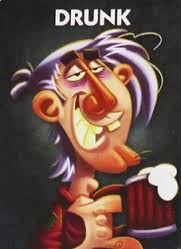 "Drunk, wake up and exchange your card with a card from the center."
From ONUW, on Team Village
The Drunk can be one of the least fun cards to play. The Drunk often has no information to use and no idea what team he is actually on. The best he can hope for is that the Seer, Apprentice Seer or Witch can reveal what the center card was that he took.
But the Alpha Wolf interacts in an interesting way with the Drunk. If the Alpha Wolf is in the game then the Drunk should take the middle Werewolf card every time. This affords the Drunk a good chance of finding out what team he is on. If a Seer or Apprentice Seer determines that the Alpha Wolf is in the center, then the Drunk knows with high probability that he became a Wolf. On the other hand, if someone is the Alpha Wolf OR if a Witch switched the spare Werewolf card with someone else, then the middle Werewolf card the Drunk took was actually whatever the player originally was that got switched out for the middle Werewolf card. Either way, this information should soon emerge and the Drunk can determine what team he is now on.
What do you think? Leave your thoughts in the comments section.