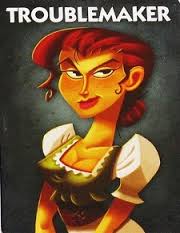 "Troublemaker, wake up. You may exchange cards between two other players."
From ONUW, on Team Village
As the Troublemaker, you don't have to switch anyone. If you don't switch anyone you can lie and say you did. If you do switch two cards you can either say truthfully who you switched, lie about who you switched or say you didn't switch anyone. Lying about who you switched has the advantage that if one of those players confess to having previously been a Werewolf, hoping to now lynch the person that received that card, you can then reveal that you didn't in fact switch them and therefore they must still be the Werewolf who must be lynched. This strategy is most effective with beginner players.
While the Troublemaker is quite powerful when playing with beginners it is actually one of the least powerful when playing experienced players. After seeing many Werewolves claiming to be a Troublemaker, almost no one takes the Troublemaker at their word, and it provides no real information to the person who performed the Troublemaker role since they don't get to look at any cards.
What do you think? Leave your thoughts in the comments section.