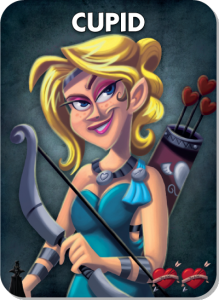 "Cupid wake up. You may give any two players a Mark of Love."
From ONUV, on Team Village
The presence of the Cupid makes life very difficult for Team Vampire.
A Team Village player receiving a Mark of Love need not act any differently since the death of their lover won't affect which team wins. However, a Vampire receiving a Mark of Love now needs to keep both himself AND his lover alive, since the death of either will lose Team Vampire the game.
The Team Village recipient of the Mark of Love should know this and can gauge from their lover's reaction whether they are a Vampire or not. While a fellow Team Village player will be indifferent to their lover's death, a Vampire will be quite protective. From the Team Village lover's perspective, when they are threatened, the more protective their lover becomes the more likely they are to be a Vampire. When they become certain their lover is a Vampire, they should announce their own suspicions and push for either that player's death or their own death, knowing that either outcome  will kill their Vampire lover and deliver Team Village a win (as well as themself posthumously if necessary).
The Cupid should never give herself the Mark of Love. The Mark of Love is only useful if one of the recipients happens to be a Vampire and one is on Team Village. The probability of this happening is maximized if she gives the Mark of Love to two other random players.
What do you think? Leave your thoughts in the comments section.