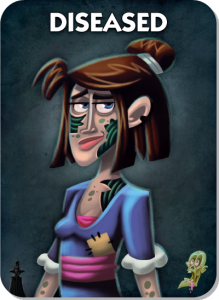 "Diseased, wake up. Place a Mark of Disease in front of any player to your left or right."
From ONUV, on Team Village
At first blush, it seems that the Diseased and the recipient of the Mark of Disease are affected the same way and have the same strategy, but this is not so.
Giving the Mark of Disease is a double edged sword. If a Vampire receives it, and this becomes known, then it will be much harder for Team Village, and therefore the Diseased herself, to win. The Diseased should not announce who they are until they can assess what team the person who received the Mark of Disease is on. Until the Diseased can be sure the recipient is on Team Village, they should deny being the Diseased and therefore cast doubt on any Vampire that may have claimed to receive the mark. If the Diseased gave the Mark of Disease to a Vampire and confirms it publicly then no one will vote for the diseased Vampire and Team Vampire will most likely win. In this case, the Diseased should continue to deny they were ever the Diseased, thus discrediting the Vampire and letting everyone else vote for them bringing victory to Team Village. If the rest of Team Village votes for the diseased Vampire eliminating each of their own potential to win, the Diseased may emerge as the sole winner.
Conversely,  the recipient of the Mark of Disease should announce it straight away, irrespective of what team they are on. It will not only deter others from voting for them, but if they themself are on Team Village this will narrow down who the Diseased is (on either side of that player) and in turn help eliminate Vampire suspects.
What do you think? Leave your thoughts in the comments section.