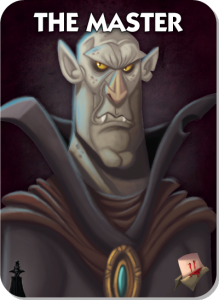 If another Vampire votes for him, the Master is protected and cannot be killed.
From ONUV, on Team Vampire
Before playing, ensure that beginner players understand that the Master is also a Vampire and wakes up with the Vampires.
Obviously if the Master is in danger of being lynched, the other Vampire should vote for them, but there are a few exceptions. If the Master has the token of Love and the other lover is at risk of death, voting for the Master won't protect him and will just waste the other Vampire's vote. Marks override card powers, while artifacts override both marks and card powers. Death by love can't be prevented by invoking the Master's power. Also, if the vote could swing either way, it might be better for the Vampire to use their vote on another player. If the group is indifferent between voting for the Master directly or voting for their lover to kill the Master indirectly, if it has any credibility left Team Vampire should sway the group to vote for the Master directly, since then the Master's immunity power will be employed.
If Team Village is sure who the two vampires are, but aren't sure who the Master is, use this to Team Vampire's advantage by giving nothing else away and forcing a split vote, then both of Team Vampire can vote for another player.
What do you think? Leave your thoughts in the comments section.